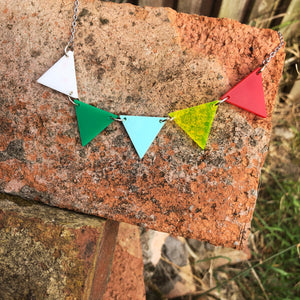 Another Cute bunting necklace this time with larger triangle! Each necklace is made to order, with a choice of brights or pastel acrylic pieces. 
If you do want specific colours, add a note
at
 check out  ♥ 
---DETAILS---

Necklace length: 18 inches (princess length) with extender

Bunting size: 24mm with 3mm depth 
Light weight and cute
---PACKAGING AND GIFT WRAPPING---
Your purchase will be wrapped in tissue paper within a suitably sized cardboard box.
Want your order sending as a gift? Just add a note at checkout and I will do this at no additional cost and add a note for your recipient.
---SHIPPING---
I will usually dispatch within 3 business days of receiving your order and will email you in the unlikely event that I experience delays. You can select from the Royal Mail, first and second class following options at checkout but if you need fasted delivery or international postage email me (debrajacksondesigns@gmail.com) so I can provide a quote.